User guides of the El Primero:
Le mode d'emploi des modèles El Primero:

A moonphase calendar
Le calendrier des phases de lune

---o0o---

Plate of OPEN - Platine d'OPEN

Caliber OPEN Dial side.
Calibre OPEN coté cadran.

Open plan.
---o0o---

The plate of the El Primero
Plan de la platine du El Primero

.
One of the first plan - The calendar.
Un des premiers plan du El Primero ( 3019 C)
Le calendrier avec remise à la date rapide.

.


The caliber 410 and its blue srews.
Le calibre 410 et ses vis bleuies.

.
Moonphase module from the caliber El Primero 410
Module phase de lune du calibre El Primero 410.

---o0o---

What version of the El Primero ?
Quelle version du El Primero ?
Before the new versions after 2000...
400 is the usual version with date.
405 is the version with Fly-back complication.
410 is the version with moonphase and date, day and month indication.
420 is the hand-winding version
Avant les nouvelles versions postérieures à 2000...
400 est la référence de la version usuelle avec date.
405 est la version avec fonction Fly-back (retour en vol).
410 est la version avec triple quantiéme et phase de lune.
420 est la version à remontage manuel.

The El Primero 420 is a 13", diameter 30 mm, high 5,7 mm, 25 jewels and 251 pieces. Its power reserve is of 55 hours.
Le El Primero 420 est un calibre 13 lignes (30 mm de diamètre ), 25 rubis et 251 composant dont 204 différents. Sa réserve de marche est de 55 heures.
---o0o---
MODIFICATIONS OF THE EL PRIMERO IN 1998.
MODIFICATIONS APPORTEES AU EL PRIMERO EN 1998.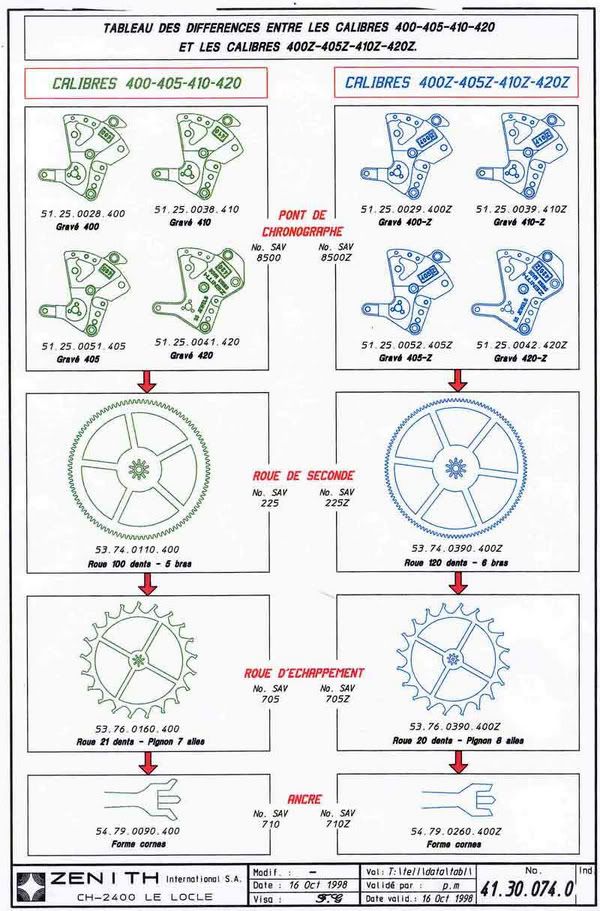 ---o0o---
The codification and reference of the ZENITH watches.
Sytème de codification des références ZENITH.
Now the ZENITH watches are referenced by a codification with 9 numbers.
La codification des montres comporte 9 chiffres.
Example/Exemple:
01 0463 400
The two first numbers mean the material (metal) of the case and bracelet.
The foor other numbers identify the model. The last number of this group is a refence of dial. This number( here 3) is never engraved on the case back.
The three last numbers are the reference of the caliber.( 400, 405, 410, 420 ...for an El Primero).
Les deux premiers chiffres renvoient au métal/matériaux du bracelet( 01 pour cuir, 02 pour acier...).
Les quatre chiffres suivants identifient le modèle. Le dernier chiffre de ce groupe jamais présent sur le fond de boite précise le type de cadran.
Les trois derniers chiffres désignent le calibre( 400, 405, 410, 420 pour le El Primero ).
---o0o---

LINKS
LIENS

THE CALIBER EL PRIMERO AND ITS THECHNOLOGY
LES INFORMATIONS TECHNIQUES RELATIVES AU EL PRIMERO.

Links with several site about the EL PRIMERO ( Click on the stars or the URL):
Quelques liens avec des sites sur le EL PRIMERO
(Cliquez directement sur les étoiles ou sur les adresses URL):

The Official web site of ZENITH:


http://www.zenith-watches.com/
The web site of JJ Casalo:


www.chez.com/jjcasalo

The web site of Ozdoba:


www.ozdoba.net
My other web site ZENITH:


ZENHITSITE (Zénith Vintages)
The ZENITH forum of WATCHUSEEK:


www.watchuseek.com
The ZENITH forum of TIMEZONE:


http://forums.timezone.com/index.php?t=threadt&frm_id=31&rid=3

I speak often of ZENITH on...
FORUMAMONTRES (French speaking Forum):


http://forumamontres.forumactif.com/index.htm
.
THANKS FOR VISIT.
MERCI DE VOTRE VISITE.
.
VENEZ PARLER DE VOTRE PASSION POUR L'HORLOGERIE SUR FORUMAMONTRES.
(lien dans l'image)