Extract from the catalog ZENITH from september 1992.
Extrait du catalogue ZENITH de septembre 1992.
The model said DELUCA
Le model dit "DELUCA"
There are two models of DELUCA. 1325 pieces with a black dial and 675 with a white dial of the version with screw down pushers were manufactured between 1994 and 1996
6,500 pieces were manufactured of all versions (screw down and non-screw down versions).
Since 1993, the Deluca was made with a saphir glass.
6500 exemplaires des deux versions avec et sans poussoirs vissés furent fabriqués.
La version avec poussoirs vissés fut fabriquée de 1994 à 1996 en 1325 pièces avec cadran noir et 675 avec cadran blanc.depuis 1993, les modèles sont équipés de verre saphir.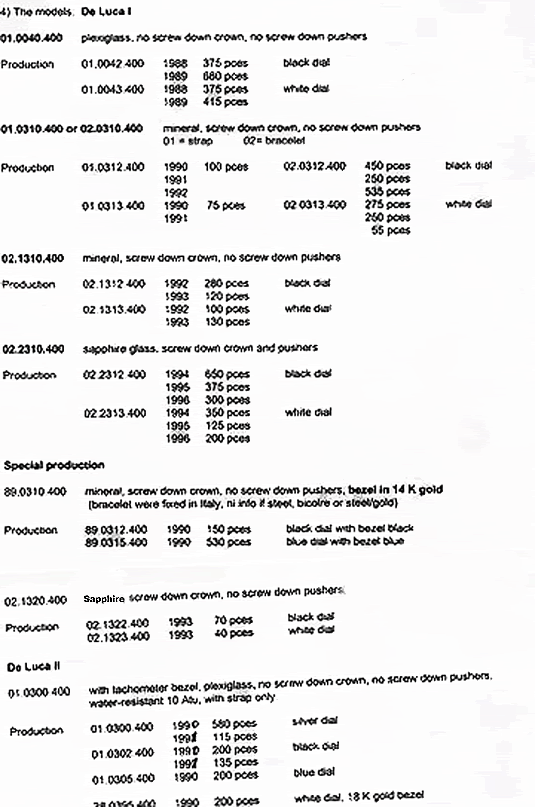 .

The catalog of march 1993.
Le catalogue de mars 1993.
Extract from the professional catalog from 1996 : The model "Class 4".
Extrait du catalogue professionnel de 1996, le modèle "Class 4"
The hand winding version of the El Primero for the first time ( caliber 420 ).
La version à remontage manuel du El Primero pour la première fois ( calibre 420 ).
The El Primero 420 is a 13", diameter 30 mm, high 5,7 mm, 25 jewels and 251 pieces. Its power reserve is of 55 hours.
Le El Primero 420 est un calibre 13 lignes (30 mm de diamètre ), 25 rubis et 251 composant dont 204 différents. Sa réserve de marche est de 55 heures.

.
ON PARLE DES CHRONOGRAPHES EL PRIMERO DE ZENITH SUR FORUMAMONTRES
(lien dans l'image)